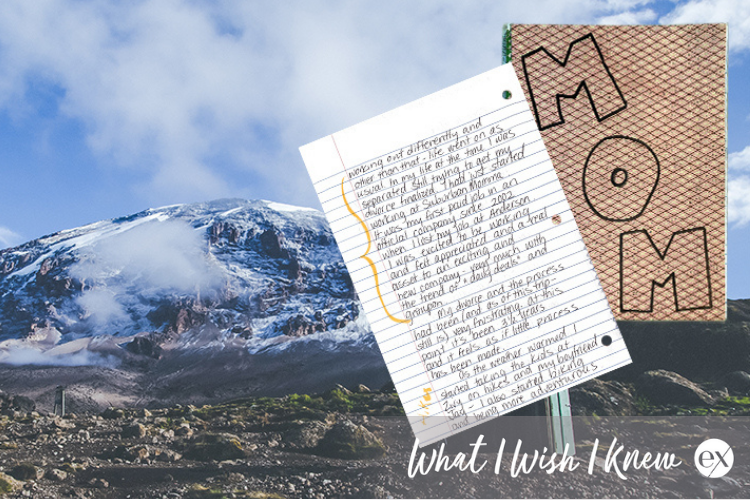 When my daughter was 11 years old, she gave me the above pictured decorated notebook to use as a journal for my Mt. Kilimanjaro climb. 10 years later, I have sold our family home and I found the journal going through my stuff and deciding what to keep and what to purge.  As I was reading it, I was surprised at how much I was in tune with myself and my needs. Looking back, I have to admit that I was so strong at a time in my life when I was growing and changing tremendously. I wanted to share this entry because it speaks volumes about growth, value, challenges and feeling proud and successful with oneself.
The following Are My Journal Entries as I was about to Leave for my Trip to Mt. Kilimanjaro, as I Reflected Back on How I had Arrived at that Moment…
September 23, 2011 – Why Kilimanjaro?
I have been training since February 2011 for my trip to Kilimanjaro. My friend Caren had seen me at dinner with my parents, she sat down and said,
"What can I do to get your daughter to climb this mountain with me?"
Without hesitation, my parents said, "Happy birthday, Happy divorce, Happy whatever – our treat, go climb the mountain!"
I must be honest; I wasn't even sure I knew where Kilimanjaro was, but it sounded cool and I'm always up for a physical challenge.
I was exercising and training with Caren, and she told me that for her 50th birthday she wanted to climb Mount Kilimanjaro. She wanted to do something monumental. She thought it was a good time for me to do something monumental as well.
Preparing for the Climb
So, the training began.  Jerome, my trainer, changed our workouts and I started investigating places to hike in our area. I am sure I still wasn't aware of the magnitude of the trip. I was working out differently and other than that life went on as usual. In my life at the time, I was separated and still trying to get my divorce finalized. I had just started working at a start-up company called SuburbanMamma. It was my first paid job in an official company since 2002. I had created a home-based resale business between losing my job at Arthur Anderson and getting this job. I was excited to be working and felt appreciated, and a real asset to an exciting new company very much on trend with Groupon (which at that time was new).
My divorce and the process had been (and as of this trip – still are) very frustrating. At this point it had been 3 ½ years and it felt as if little progress had been made. As the weather warmed, I started taking the kids and our dog Zivy on hikes and I started biking and being more adventurous. The views of nature were so beautiful, it was a pleasure to be outside.  When my girls left for sleep-away camp my son Jason was my hiking partner. He was great and had so much energy he almost never got tired. Zivy held her own as well.  We went hiking off the Palisades (in NY) where there's a path that leads to waterfalls and a swing that he loved. We had great, carefree conversations on our hiking expeditions, and we invited friends to join. The kids all loved climbing, crossing the streams and the awesome views.
1 Month Prior to My Trip
I remember I had been so hungry! The training was intense, and I felt like I was (and I assure you I truly WAS) eating all the time! My legs felt bigger from all of the hiking, biking, squats, and training that had been focused on preparing me to climb Mount Kilimanjaro. Just that feeling made me uncomfortable. I like to control the way I look as much as I can.  And yet, I don't recall at any point was I concerned about being physically prepared for this adventure!
My new favorite store became REI. I went there in Connecticut and then dragged Jason to shop for my gear.  After three hours the transformation had begun, I purchased headlamps, hiking boots, hiking pants and gear that I would never have otherwise purchased.  My backpack became an appendage for my workouts and hikes, loaded with rocks and weights. My new style was more mountain girl than suburban mama.
I started to get nervous about the trip when I realized that although I was physically prepared, I wasn't mentally prepared. The magnitude of this trip was colossal!  First, being in Africa (and I've been before, but that was in college), being so far away from my kids and certainly climbing, camping (I am not a happy camper), taking things slowly, and being with my thoughts – none of those activities accurately describe me or the things that I normally do in my life. I go faster, further, finish more in one day, multitask, juggle people and things – "slow" is against everything I stand for!
Am I Ready to Climb?
This trip is going to present multiple challenges to my psyche. I like who I am, do I want to change? Who will I be when I return? Will I welcome the meditation part of a yoga class as opposed to running out as soon as the lights dim, and she tells me to lay down and rest? 
Before I left, I met with my therapist for the first time in several months and she pointed out the fact that I've been climbing a mountain for several years, now very slowly. Discovering who I am, who I want to be, who I don't want to be, understanding myself better, and trying to ensure I don't repeat past mistakes. Since my separation, I have had a few relationships, each of which taught me a lesson about what works, what doesn't work and what I won't accept any longer. It's easier to see the things that I don't want because I've never had what I do want. I deserve more than I have expected from people. I can have it all! My gut does lead me to the truth. Family is a top priority; my kids are amazing, and they need a positive role model. Who knows what the future holds for me in terms of a relationship but I'm along for the ride of learning an ongoing discovery!
So how do I embrace this trip? It's a time to feel, discover, uncover and put myself in a position of challenge, unlike any physical success I might achieve. Testing my mental comfort zone. If someone told me I'd be climbing a 19,000+ foot mountain, be the Director for a start-up company, be happy and at peace with myself – I'd never have believed it, but here I am!
Remembering the Last Days Leading Up to Today
Preparing in the last few days was total craziness, the kids were great and my parents were amazing as always. They are so proud of me. You can see they are busting. How lucky am I? They would love to have this adventure themselves and are overjoyed that they can help me get to Africa and have this experience. Their support and love are unconditional, and I don't know how many people have that other than my brother. I certainly didn't have unconditional love in my marriage. 
Once the schedule with the kids was finalized, my work was as accomplished as possible, I was getting excited. I had my hair color that morning so I wouldn't be too grey when I got back – kind of funny but made me feel better. No polish on my toes but my legs are smooth, and I will be a smelly, hairy mess when I get back but maybe that's the new me as far as dealing with imperfection.
What's also cool and has kept me on track and made me realize that this is a "big deal" are the messages from random people saying how great it is that I am going to do this, and WOW; and "keep me posted and I want to read all about it." It's so nice to hear these things, coming from a good place. It made me feel so much more confident about this trip. I was doing something most people don't have the opportunity to do, and they know that! They are living through me and my experience and take away from this trip. It's so much more than a climb it's a potentially life-changing, introspective view that I would not otherwise have. So, we left on September 23 in the afternoon. Friends and family signed my backpack, I had one last workout with Jerome in the morning because that's what puts me at ease (typical me)…
…and the adventure begins.
10 Year Later – Looking Back
When I found my journal of this trip, I was surprised by how insightful I was in my mind for what this trip really meant. Yes, climbing the tallest free-standing mountain in the world elicits a HOLY CRAP response from people. I am physically fit but didn't need to be for this trip. I am not a "camper" but am always up for a challenge, so I said yes to this trip without hesitation. The challenge wasn't physical, it was all mental. Sleeping in a tent, by myself, for 11 nights – THAT was tough for me. During the day, as we hiked, we had to go painfully slow "Pole Pole" one step, one pole, one step, one pole. I don't do things slowly, and in fact, I do more than one thing at a time too quickly! Slowing down my steps made me slow down my mind, forced me to be present and aware, and challenging my mind was much harder than challenging my body. I took it all in, the tears, the fears, the uncertainty, and the unexpected gift from climbing 19,341 feet was more about my mental growth, my gratitude, and appreciation for myself as a woman and mom than for reaching the highest peak on a mountain. Instead, I got a taste of the best me I can be, and I've taken that lesson and it's elevated me as a person and I am truly grateful that I don't turn down a challenge, even if it wasn't what I thought it would be.