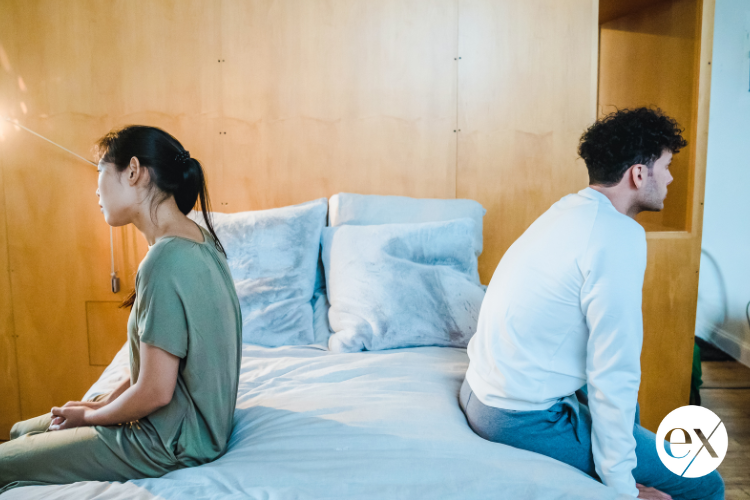 Cindy Stibbard from Vancouver, Canada had a marriage full of infidelity (including her own) and a rocky divorce. When she sat down with Jessica and T.H. on the Divorce etc… podcast, she talked about how she took her negative experiences through this turbulent time and used what she learned to become a divorce coach to help those in similar situations. Now, Cindy is a certified divorce coach focusing on family reorganization and navigating the divorce process in a better way.
A Difficult Marriage
Cindy was married for 22 years to a husband who had affair after affair throughout their relationship. She kept thinking, "Is this really happening to me?" Were her own worst fears true? "It was those moments where I thought, you know what? I'm going to be the better wife," she would tell herself. "I'm going to rise above this. I'm going to hold my family together." And so she trudged on, trying to push back those thoughts of her husband's infidelity. 
But as time passed, it started to weigh on her and erode her self-esteem. By the second time she had discovered an actual affair, not just a suspicion of one, it was a turning point that began the building up of resentment against her husband. She started thinking, "What about me? Who am I? Who have I become in this marriage?"  
Her Retaliation
Cindy began to feel undesirable. She wasn't her husband's priority in her marriage. Any time she tried to connect with him, he always had an excuse to get out of it. Date night? Too busy. Day out? Too much work. She wasn't even 40 yet, but she was feeling unloved and unwanted. This propelled her reawakening. She started going out more, diving into her life, and she thought, "You know what? I'm not going to just stay here while you go do your thing." 
So she, too, sought out attention outside her marriage as he had been, and began an affair of her own. But when her husband found out, she expected a bigger response than what she received. She was expecting him to finally step up and take her and their relationship seriously, but instead, he laughed it off. It was not taken seriously at all. "That was almost turning the knife deeper in my heart," Cindy admits. He didn't even care.
At this point, Cindy was even more humiliated and embarrassed that she had even tried to get a reaction out of him. So for the next five years, she started to spiral. She started drinking more, hanging out with friends more frequently to cope, and just went down a dark path. She didn't have the financial means to leave, and she didn't know how to get out of this situation. Divorce was a consideration but also a fear, especially with two young children. She was even asking for marriage counseling as her Christmas and birthday gifts for those five years because she wanted something to help them out. But he didn't understand the purpose of trying to save their marriage. 
"It wasn't until I actually left my marriage did he wake up to the fact that I was serious," Cindy recounts. That's when he wanted to work on it. But at that point, she was done. Her mind was made up. He was too late. 
Divorcee to Divorce Coach
Cindy's resentment had turned to disgust. She was drowning herself in wine to avoid going to bed. She felt herself breaking down. If she stayed on this path in their relationship, she was not going to be able to sustain it. She needed a change. Every part of her being was affected; her mood, her body, her mind. "Everything was just coming out in that unhappiness," Cindy reflects. "I had to come up and rise above."
So she and her husband went down the traditional path of lawyering up and spending a fortune. The financial struggle was a big fear of hers, and she worked to use her lawyer strategically to avoid spending excess on legal fees. While going through this process, so many women she knew would reach out to her and send messages saying, hey, I heard you're going through a divorce. I'm thinking about it too. 
After receiving an influx of messages from others, she thought to herself, there's got to be some training I can do to help people going through this. She only had her own personal experiences to help people, but obviously, that didn't apply to everyone. And thus began her training to become a divorce coach. "I just realized I'm trying to create the support that I needed going through a divorce," she said. She became the person she wished she had had by her side to help her through her own struggles. "I'm just someone that you can reach out to that's not a lawyer, and who's not going to charge you billable hours for every single text message, that kind of 'oh shit' moment support," whether you need help as you're in the process, thinking about divorce, or on the other side coming out of it. 
Cindy's Business
A lot of her business has been built up through networking, by reaching out to as many different professionals as she could who would be working with potential divorcees, like therapists, mediators, lawyers, real estate agents, and mortgage brokers. "I think the more people that you can bring into your network, the better you can build up those relationships," Cindy says.
Cindy's support isn't just about divorce coaching, but it's about helping families navigate in a better way. She works out a program based on the levels of support needed and in terms of time. Her packages are all-inclusive, and there are no extra fees. It's about how much hand-holding you need if you just need someone to help you go through a checklist of things to accomplish, or if you need Cindy to personally connect you with professionals and be a teammate through your divorce, she can do both. Or do you need Cindy to be with you in every meeting and liaison with your divorce team? She also offers what she calls the Divorce Academy, which is a weekly support group she runs as a monthly membership. Every month, she'll bring in a professional to educate and inform the group on certain things, whether it be legal, parenting, or finances, just so everyone feels like they're learning and growing together.
Cindy's own experiences in her divorce have helped her see what she wishes she had when going through the process, and she's now providing that for her clients. She experienced the stigma of divorce and infidelity and how it's viewed in society, and she wants to help end the shame and provide the support and education needed to go through the process.