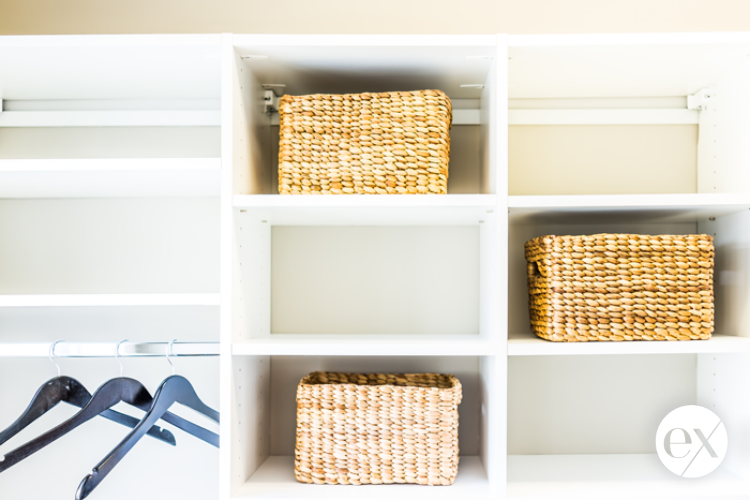 Dealing with decluttering is something everyone goes through, however it becomes a more acute priority when you're going through a divorce. Nicki Naidrich and Lauren Tutundgy of Neat Freaks Home help take us through the process of what to keep, what to donate and what to sell.
1. First Step – Purge
When deciding what to keep, the Neat Freaks general rule of thumb is to keep anything you wear, anything you use and anything that brings you joy (hi Marie Kondo!). This is not the time to look through things and admit you haven't used it or worn it in 3 years but "maybe someday I will…" Stay strong and just remember that everything you purge opens up more space for the fabulous things you can now bring into your new life.
As for what to purge, keep in mind that this is the perfect time to make a clean start. Get rid of anything you can to make the space new and your own! It's possible that there may be some things you feel the need to keep for nostalgic reasons (old photos, wedding album, keepsakes that still feel significant), but for those specific items, try and at least keep them in a contained space that is out of view. This will allow you to get used to them not being around so in essence, you are living without them, and you can go back and revisit these things at a later time to decide if you are ready to get rid of more of them.
2. Second Step – Make Piles
When it comes to tackling the closet, we all know that can be very overwhelming. In fact, just looking at a cluttered closet can give you heart palpitations. But try and stay calm and know that there are some simple ways to make it easier on yourself.
Start by decluttering by category. Doing this can help you feel in control of the situation, and makes it all seem more manageable. Divide your clothing into sections (jeans, sweaters, sweats, shoes, accessories) and start with one section at a time. This will truly allow you to do a little at a time and not feel overwhelmed. Now while we want to be thorough in getting through everything so that you feel ready to move on, a great rule of thumb is to allow yourself one full year, so you can get through each season and see what you have not revisited.
3. Third Step – Consign, Donate or Sell

?
Once you have a pile of things you are ready to get rid of, the first thing to do is plan to donate or sell any items that are no longer wanted or used. And you should plan to consign any luxury items that are in good condition.
Ideally you will have four main piles, and make sure the piles are labeled; donate, purge, consign or keep.
Purge, Consign, Donate, Sell
Here's how to know exactly what goes into each pile, and some terrific resources to check out when you're ready to part with your piles.
Consignment: This means luxury items that are gently used and still in great condition. 
Material World: buy and sell pre-owned high-quality items

FashionPhile: luxury pre-owned handbags, accessories, jewelry and watches
Sell on your own: If you have the time and it's not a high-end luxury item.
Mercari.com: new or used, fashion to toys, shoes to electronics, if it ships you can sell it.

Poshmark: clothing, bags, accessories, jewelry (some examples of great brands that do well on this site are Everlane, Hunter, David Yurman, Rag & Bone, RayBan)

Donate: no matter where you live, there are organizations and places in your area that would love to take your unwanted items and make sure they go to good use. In the North Jersey area where we're located, here are some of our faves:
Goodwill, Bergenfield:

201-385-5154

Salvation Army:

1-800-728-7825

Vietnam Veterans of America (Books):

1-888-518-8387

Bergen Family Center (clothing)

Red Cross

Dress for Success – donate gently used professional attire for women

Room to Grow -children's clothing, books, strollers, carriers and toys from children three months to 3 years

Project G.L.A.M – donate prom dresses, makeup and accessories

One Warm Coat – donate coats 

Soles for Souls – donate shoes and clothing
No matter where you live, we have some great tips and tricks, so check out our site at www.neatfreakshome.com.