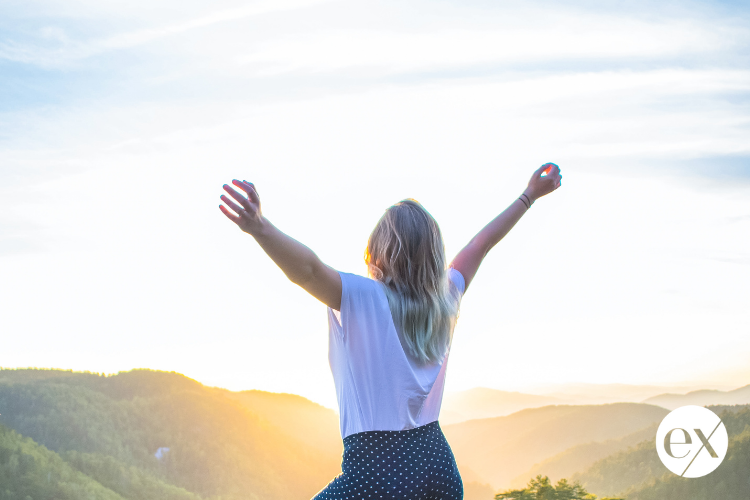 On Loving Divorce
My name is Tara Eisenhard, and I love divorce. I know that my views about the end of a marriage are seen as non-traditional to many people, but let me explain as I recently had the chance to do with T.H. and Jessica on the exEXPERTS' Divorce, etc… podcast.
Jessica kicked things off by asking my favorite question, "Why do you love divorce?"
The answer dates back to when I was 13 years old and my parents divorced. Their cooperative divorce resulted in a better relationship between them. Through the experience, I learned that divorce is not a problem, it's a solution to a problem. Divorce is also an opportunity to create a new beginning and live a more authentic life. 
Of course, conversations about divorce never end there. It's only natural to address the "but" that's in the back of so many people's minds:
"But you made a promise!"
"But did you try counseling?"
"But you gave up too soon!"
(Side note: I'm always amazed by how much expertise outsiders believe they hold when it comes to other people's marriages.)
I understand some of the frustration from those who have a traditional perspective, but the fact is that not everybody vows to stay together until one party dies. And yet, everyone does in fact stay together that long because we grow and change all the time. Nobody is the same person they were on their wedding day —  that person is gone. As we evolve on a personal level, our relationships do, too. It's really an act of love and respect to recognize someone for who they are and know you're not right for each other.
Of course, that's not to say I don't believe in marriage. I do. I just don't define marriage as a relationship that needs to last forever. It's a partnership that should last as long as it's healthy and nurturing. Honestly, it would be nice if marriage came with a limited lease that you could re-evaluate every few years, wouldn't it?
I also spoke to Jessica and T.H. about the path I took to arrive at my current conclusions about marriage. Early on after my parents' divorce, I was angry and insisted I'd never get divorced – I was going to stay married forever (funny, though, that I wasn't afraid of getting married). But time cured me of that limited thinking, and I arrived at young adulthood believing that divorce is the grown-up thing to do if things don't work out, so I accepted the idea that it might happen to me. And then I did actually get divorced, and I was so happy to be out of my bad marriage that I assumed marriage itself was bad and that I'd never do it again. But again, I learned and grew and changed my mind. At this time I'm equally at peace with both marriage and divorce.
And now today, as Jessica pointed out, I'm currently a Divorce Coach – so naturally, she asked how that came about?
It certainly wasn't what I dreamed of as a child. And until my own divorce, I'd been quite happy with my career in marketing. But my experience ignited a passion for changing the conversation around divorce. I started looking for ways to help people have more peaceful and productive divorce processes, as I'd known for myself. When I came upon the phrase "Divorce Coach" on Twitter in early 2010, I knew it was for me.
It's an honor to assist my clients as they navigate the human side of divorce. Beyond the legal process, many people struggle with guilt, self-care, co-parenting, and answering those huge questions, "Who am I now?" And, "What happens next?"
We also talked about my book, The D-Word, Divorce Through a Child's Eyes, which I wrote to address another common source of conflict in divorce: individual perspectives. Every person sees things from a different angle, yet we often assume those around us see exactly what we see. This can be especially problematic when parents make assumptions about their children's feelings. The D-Word, tells the story of a divorce from the perspective of a 12-year-old girl so adults can glimpse a child's reality and respond accordingly.
Hearing my story and the evolution, T.H. asked me to share what I wish I knew, something that I know now but didn't know when I was married.
My first answer was that I wish I knew I didn't have to get married. But that's a different topic for a different episode.
My final answer was that I wish I'd known that there were official alternatives to a contentious divorce process. Back then I'd never heard of divorce mediation, and I was unbelievably lucky that my ex and I knew an attorney who could sit with both of us (over lunch at a Chinese restaurant) and walk us through what to put in our divorce agreement. Had it not been for our family friend, I likely would have been drawn into an expensive and exhaustive battle, because that's what many people told me to do, and I didn't know any better. 
Jessica, T.H., and I acknowledged how much the world has changed in recent years. Not long ago, there was no googling anything, and there were no exEXPERTS. There's been a lot of progress, but there's still a long way to go.
We need to keep dragging divorce out of the shadows and accept, collectively, that a "family" can take many forms. Personally, I'd love to see marriages end with separation ceremonies instead of courtroom theatrics. And, can we start a culture of gift-giving for those going through such a major life transformation? After all, divorce represents a new beginning, and that should be recognized, supported, and celebrated.
When the interview was over, I closed my laptop and felt immense gratitude for the technology, the tools, and the exEXPERTS that are influencing the experience of divorce. I don't expect anyone to love divorce the way I do, but modern divorcées need not feel as isolated, confused, or ashamed as the last generation, and that's a very good thing.
Tara Eisenhard is a coach, educator, and author of the book The D-Word:  Divorce Through a Child's Eyes.  To learn more about her work, visit TaraEisenhard.com.