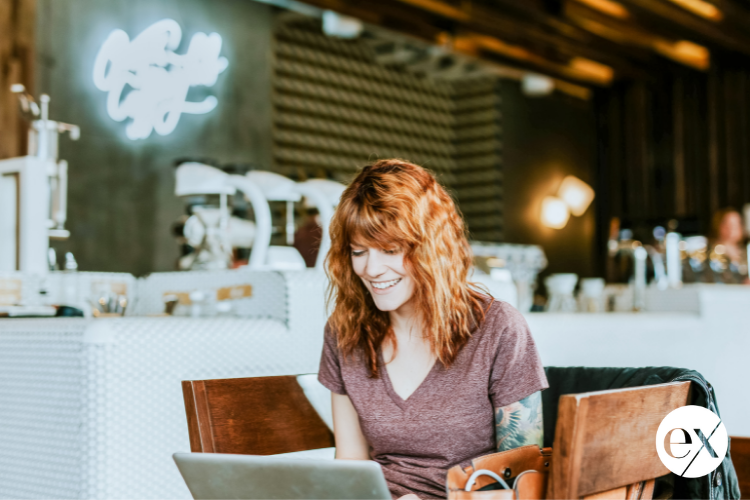 So, you've decided to try online dating and now you've been staring at your profile for an hour, trying to figure out how other people are going to see you. We've all been there. No shame in checking your profile every now and then when you get a little exposure anxiety. It's nerve-wracking to put yourself out there, especially online, with all the – to put it nicely – interesting characters on these apps. 
Online dating is a lot like fishing. Plenty of fish in the sea, but you have to be patient and wait to find the right catch. Truthfully, most of the time, it feels like you're lost at sea. The pressure to have a perfect profile is overwhelming, especially when you're trying to find the "perfect" match. 
What if we told you there's a way to ease your anxieties and ensure you're getting the matches you deserve? Well look no further because Alyssa Dineen, professional personal stylist and dating coach, has created a whole method to tackle online dating. It's called Style My Profile.  
Read on to learn Alyssa's story and her best online dating tips and tricks!
Alyssa and Style My Profile
Alyssa began Style My Profile as a one-stop styling and photo service for online dating, but it's definitely evolved since then. Now, she focuses mainly on those who are getting back out there into the dating world. Her team does everything from shopping and styling to date coaching. They even write your bio for you! Alyssa describes the bio writing process as a lengthy discussion call that's sorta like an interview. Essentially, she and her team are trying to set you up to make a stellar first impression.
Alyssa had been with her ex for almost 20 years; they met pre-internet. She was 41 when they got separated. Prior to embarking on online dating, she went on one blind date that was set up by a friend. We all know that blind dates have a not-so-remarkable reputation. You think your friend, someone who knows you well, would be able to set you up with someone ideal. But, no that's never the case. Alyssa's blind date wasn't an all-out disaster like some are, but the date was just uneventful and it didn't work out. She realized pretty quickly that she had to go online. Like most divorced people who have never online dated, she had no idea what she was doing. Alyssa bugged her one single friend, constantly asking her advice on everything. Her friend told her that she had to figure this out on her own. 
It took Alyssa a few months to figure out what photos to put on there, and what to wear on a first date. She eventually got to understand how to curate the best bio. But, the messaging aspect of online dating is a whole other beast. That took a little bit of practice for her. After a little over two years of online dating, she met her current partner on Tinder. He was also divorced and had never online dated. When they met, they were just comparing stories about how clueless they felt towards online dating and how they encountered so many profiles that could use a lot of help. 
Why do people shy away from talking about online dating? 
Alyssa found it so strange that people were not seeking advice from their friends for their profiles. There are women like Jessica and T.H., who did ask for help and would show a profile picture here and there like, "should I put this up there"? But your friends who are married don't get it at all. They're like, "sure, that's a great picture". Really, you have to be in it to actually get it. Unshockingly, most men don't even think to show their profile to someone. Alyssa found it interesting that in the first year of Style My Profile, it was almost all women who were coming to her. What that told her was that women seek help more often than men. It definitely goes back to how men and women are socialized differently. 
T.H. feels that women are more afraid to make a mistake so they're more likely to question how they're putting themselves out there. Of course, T.H.'s background is in marketing, so for her, it's all about building your brand. What's your brand to the world of potential suitors?
Top 4 Online Don'ts to Avoid
Don't Only Putting One or Two Photos Up on Your Profile
This is a big-time no. You want to post enough photos so that you'll showcase your personality and resonate with someone. 
Don't Post Out of Date and Old Photos from Your Younger Years
So many people still do, when it's so obvious to everybody looking at your profile that the age you put does not correspond with your photos. This makes you come across as though you're not trustworthy. You're only doing a disservice to yourself by doing that because you show up on a date and you're 10 years older, or you're 40 lbs heavier, or whatever it is. Maybe there would have been a connection, but immediately the person's put off by that and the door closes. The first thing people think to themselves is you look nothing like your photos. Some people really have a hard time getting past that. But obviously, you have to be honest. You have to be open. You have to put your whole self out there because otherwise, you're wasting your own time. 
Don't Make Your Bio a Resume
This mistake is pretty common, especially for people in their 50's, 60's, and 70's. It's really important to have something either quirky about yourself or something funny, like an anecdote. You want something that's going to get people's attention. Because after looking at profile after profile after profile, you see the same things written over and over again. 
It's like a short story. No one wants word vomit. We want short and sweet. Tell me who you think you are. Tell me what you like to do. Keep it light and interesting. Remember, you want to have something to talk about on your date. Make it short and save room for conversation.
The Makings of a Good Profile
This all comes down to making sure you resonate with the type of person you want to attract. Basically, it's how you show off your personality so that you can match with someone most like you. As long as you have a couple of photos that resonate with somebody, that's really all you need. All it takes is a couple of photos to really strike someone. With Alyssa's boyfriend, he had one good photo, and luckily, that was his first one. The others were horrible. She debated his profile for a bit but ultimately decided to go ahead and swipe right. They met the next day, and the rest is history. There's a long story behind that too, but they met right away, and definitely, there was a connection. Even if you can just pull together just a couple of great photos, it really does make a difference.
Showing your sense of humor on your profile is also huge. Being funny makes you memorable and more likely to stand out. Alyssa has definitely gone out on dates with guys where maybe she wasn't super excited about their pictures but decided to go for it because they'd written something really funny or interesting in their profile that made her want to meet them. Let's be honest, when someone looks at your profile and they think you're funny, it just makes all the difference.
Make sure your photos are accurate. No one likes a "catfish."
T.H. once matched with a good-looking, extra stylish guy. He looked almost too good to be true, which turned out to be the case. Instead of posting pictures of himself, he used pictures of a friend instead.  When she liked it, he messaged her, "Thanks for liking me, but I just want you to know I don't look like this. This is what I really look like." Major red flag. 
Most of the dates that Jessica went on, the guys were always like "wow, you look just like your pictures." And she's discovered that at least 90% of the time that she's gone out, most guys look like their pictures. But from having discussions with both women and men, Jessica thinks that the things men and women aren't forthright about differ. It seems like women are less honest about their pictures (they add filters, post old pics, etc.) and men are less honest about their age. On numerous occasions, Jessica says she sees profiles where they men post their age as around 50, but then add in their description that they're actually 5 or even 10 years older. At that point, she swipes left and moves on to the next. 
What about if you have kids?
It used to be more taboo than it is now to include your kids in your profile. Alyssa always says, "if you want to include one photo of you and your kids that's fine, but not more than that because you want people to realize that you have a life outside of your kids." Especially now when pretty much anyone can Google anybody and find all their pictures, it's not so private anymore. Having one picture of your kids is fine, but she really recommends not more than that.
Jessica has actually had conversations with guys that she's met on apps who have asked her why she's showing her kids' faces instead of blurring them out. A lot of people will blur out their kids' faces. But her thinking is, why have the pictures in there if you're not going to show their faces in it? It defeats the purpose. And at the end of the day, it's just a personal choice.
Dating online is hard for everyone. Don't beat yourself up about it!
No matter how great your profile is, there are going to be moments when you think to yourself "this is not going well". Whether in person or online, dating is a total job, and really, it's helpful to have a coach. Just like you'd have a fitness instructor or a therapist, it's helpful to have someone keep you motivated to stay out there in the dating game. That's a big part of having success with dating. 
Alyssa believes it's important to create a community around dating so that you can be reassured that the frustrations you're experiencing are normal. Having burnout is normal. Online dating is tedious, it's monotonous, sometimes annoying, and it is sometimes painful, but it's also fun. It's exciting. Alyssa has even met some friends from online dating. In fact, she is still friends with some of the guys she's dated. They're people that she would have never met otherwise. 
What's important is to maintain a positive outlook and not lose faith. Having the right attitude is all about intention and being mindful about the dating process. If you stay true to yourself and your needs, you'll attract the right match.
Remember, it doesn't matter what you look like, everyone's having the same issues that you are. You still get blown off. You still get ghosted. It happens, but you have to keep moving forward. 
Sure, having some well-styled photos and a more curated profile helps to get matches, but you can't leave it there. It's also about connecting with people by text, which is really hard, and it takes practice, practice, practice. All of it takes practice. Even taking a selfie takes practice. Alyssa always says don't put up a selfie until you've tried about 500 times because it takes a long time to get the hang of it.
Dive into the online dating game, that's where everybody is.
Jessica wants you to know that if you haven't done it, you have to do it. And knowing the right way to do it is essential. Once you meet someone then it's on them, the connection, and your personality. You can't have this great profile and then be a dud in person. Curating a good profile will set you up for success, but you still have to follow through with your personality. 
For more information check out Alyssa at stylemyprofilenyc.com. Alyssa also has a book coming out in October called The Art of Online Dating. It's anecdotes of her own experiences and her clients' experiences, mixed with prescriptive advice. It's like a how-to meets a funny memoir.