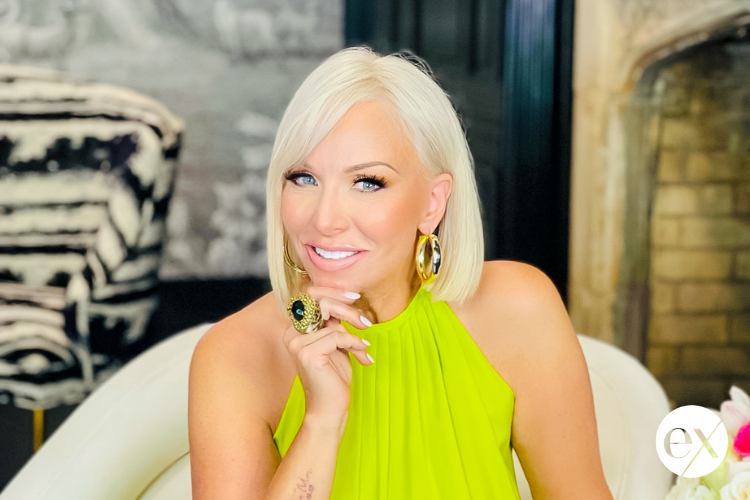 Margaret Josephs of the Real Housewives of New Jersey first joined the cast for some PR for her business. Yeah, she knew they'd air out some dirty laundry, as do all reality shows, but she wasn't expecting just how brutal it could be behind the camera. 
Behind the Scenes
Like most of us, Margaret thought the show was fully scripted before she was part of it. Who would fight the way they do? Turns out, they do. "I thought it was part acting, part reality," Margaret confesses. "Well, I learned immediately that was not the case at all." So what you see is full-on Margaret, and she believes that we all do see her authentic self on the show. She owns the fact that she's brutally honest, and people will try to say she's cold, but hey, she's just hardcore. 
Even with the amount of drama on the show, Margaret took each step with stride and got ahead of the drama before anyone else tried to pull out the skeletons in her closet. She fully acknowledges the issues she had with her previous marriage. Yes, she had an affair, and she met her now-husband through this affair, but she's not trying to hide it from us. It's all out there for us to see.
Show Tensions
Margaret talks about getting into it with another castmate, Jennifer, when she reveals Jennifer's husband's infidelity, but this was more about spotlighting Jennifer's hypocrisy since she didn't shy away from expressing some major judgment toward Margaret and her own relationships.
"That's usually how it is," T.H. notices. "The people who have the loudest voice usually have significant issues of their own, and they're just putting it on you." And that's true. Jennifer didn't hold back from attacking both Margaret and her mother, doing anything possible to try to tear her down. But the truth is, Margaret hadn't "dug up" the dirt on Jennifer's husband stepping out of the marriage. It was common knowledge, the information was out before she had even gotten on the show. When you join the Real Housewives, everyone will know everything about you, airing out all the dirty laundry.
How People View Affairs
A fun little discovery Margaret had was how people will act like you've straight-up murdered someone if you've had an affair. Apparently, having an affair is worse than drunk driving, or even going to jail. Margaret didn't try to hide any part of what she experienced, remaining open even about the hurt she was facing and the consequences of her actions, but even with this forthright attitude, people didn't hold back when it came to criticizing her actions. Which, let's just say, her ex-husband didn't have to face.
Jessica noticed the same thing when it came to her ex-husband's infidelity. Rather than criticizing her ex, people would bad mouth the mistress to her. But why put so much of the blame on the other woman rather than the one doing the cheating? That woman did not break up her marriage. She wasn't responsible for her family. He was.
While Margaret got the brunt of the criticism and hate when she went on the Real Housewives, Joe, her ex, pretty much sailed through the whole experience. "You're a homewrecker," people would accuse Margaret. "You ruined two homes. You did this." But the truth is, they were both in unhappy marriages. You can't put it all on just one of them. That's sexism at its finest.
Getting back to the tea with Jessica, she was just really surprised how much some of her friends only blamed the other woman that her husband had an affair with. And she knows other people whose husbands or wives cheated and they have so much anger towards the other person but almost less towards their own spouse. "That's the hypocrisy," Margaret points out. "Don't pretend you're happy. Don't chastise me and defend the man and put him on a pedestal when he has the exact same behavior." If you're going to call Margaret or other women homewreckers, you've got to have the same energy for the men who cheat. 
Thrown Into Adulting
Margaret was only 24 when she married her first husband, who was 44 at the time. He had full custody of three children, ages 8, 14, and 16. She had a son with him, who's now 25. They had a wonderfully blended family. But she was only 24. She was still growing up. Growing up led to the growing apart of her and her then-husband. "I still consider it a successful marriage," Margaret says. "It's just we went in different directions."
Jessica and T.H. can relate. T.H. got married at 25, Jessica was even younger at 23, but both were within a month of each other. While their spouses did cheat on them, the cheating itself wasn't the cause of why their marriages failed. For T.H., "That was the day my freedom kicked in." Her marriage definitely hadn't been working much earlier than that. 
That's something we need to think about. So many men and women have been in this position, and we need to realize, if it gets to that point in your marriage where someone cheats, then it obviously wasn't working. For T.H., she felt like she was suffocating in her marriage, and when she got the call from the mistress telling her about what had been going on, it was such a relief for T.H. that she actually told the woman she had saved her life. 
Thinking About Your Kids
The thing that Margaret is both proudest of and most upset about is how she didn't fight for anything during her divorce. She wanted to make things as easy as possible for her son, so she chose to sacrifice things for herself to avoid fighting an ugly battle. Nothing was worth fighting over for the sake of peace. Does her ex want the house? He gets the house. In doing right by everybody else though, she realizes in retrospect that she didn't do right by herself. She went through some unexpected setbacks later and admits that she would do things a little differently today.
Even with the difficulties of divorce, Margaret knew that splitting up was the best option, especially for the kids. If you're simply staying in a marriage for the benefit of the kids, and you're clearly unhappy in your position, what does that teach our children? To sacrifice their own happiness for the sake of others? Bullshit. That's just teaching them that they don't matter, that their feelings aren't valued. Margaret is adamant that you can't be teaching that to your kids. And by showing up and staying in a bad relationship, that's what you end up teaching them. Margaret didn't want her kids seeing this, because that's just not how a couple should operate, yelling and screaming all the time. Divorce was the best option for everyone involved.
Podcasts, Product Lines, Etc.
Margaret went to the Fashion Institute of Technology in NYC, so you know she's got creativity in her bones. "Find something you love, and then it won't be work," T.H. throws in. "It'll just be a pleasure." And that's exactly what Margaret chose to do, from the Macbeth Collection to Candie Couture, to her podcast, Caviar Dreams, Tuna Fish Budget.
The Macbeth Collection is a lifestyle brand, selling everything from home goods to tech accessories. They used to only sell high-end products, and their signature was decoupage buckets that were all over the Hamptons, on Oprah's Favorite Things, literally everywhere. From there, Margaret got into licensing her own prints and patterns, and her company was really the first female-founded company in tech accessories, as well as the first female brand in Walmart.
Margaret also has another label, Candie Couture, which she equates as the little sister of the Macbeth Collection. They sell to Ross, Burlington, TJ Maxx – the product is everywhere and available for everyone, and has been incredibly successful. Despite some setbacks with COVID, they're building and working to get some new partners in, amongst other endeavors.
Then the ripple effect hit. She met Joe. Her marriage fell apart. Then her business had a horrible hit. Her bank account was frozen, she couldn't pay her employees, and she had to file a business bankruptcy to unfreeze her account. 
That's when her podcast Caviar Dreams, Tuna Fish Budget came to be. People always want to know how she's done what she has. How is she not afraid? How does one turn their dreams into reality? Margaret and her friend/business partner Lexi wanted to start a podcast that would inspire people, help people, and encourage people to take that next step and start their own business. And they love doing it. 
Margaret's passion and determination are great inspirations for us all. No matter the setback, the drama, the obstacles she faces, she always comes out of it stronger and ready to take on the next challenge. We could all use a little Margaret in ourselves, both in work and in our daily lives.