Online dating has become the go-to ritual when you're first out of a relationship or when you're finally ready to start looking for one again. There are plenty of matches out there to be had since there are so many people looking. But how do you stand out from the rest? Alyssa Dineen, dating coach and author of the book, "The Art of Online Dating", has the coolest, dare we say fun system, based on MAD Libs, to make creating your dating profile bio a little easier (and better!) so yours will stand out above all the others.  
We get that most people think writing about yourself can be extremely difficult, especially when you're trying to squeeze it all into a 90-word limit bio box. But the best way to get someone's attention is to have a little fun and be creative with it. Throw in some sarcastic humor and a few witty answers to those profile prompts and see what a difference it can make! Alyssa shares a few of her MAD Libs prompts to provide examples (and a laugh or two) to show the kind of engagement you need to be having on your profile. She says something like this would work really well in a dating profile when you're describing who or what you're looking for, "If you are picky about what kind of coffee you drink, put your phone away during dinner, and prefer Coen Brothers over Steven Spielberg, I'm your girl. I'm also interning at the local zoo. No, that's not a euphemism. If I like you, I might let you feed the tigers with me." Come on, isn't that so much more fun than the typical "I like hiking and traveling, enjoy spending time with my friends and family and am looking for someone who loves to laugh"?
LET THE MAD LIBS GUIDE YOU 
When creating these excerpts, it can be helpful to have seven to ten adjectives to describe yourself. If you're having trouble, Alyssa recommends asking your best friend or your mother; you know you'll get the truth from them. It's also helpful to jot down your favorite hobbies or interests so that you can easily pull ideas, which is how Jessica helped meld T.H.'s idea of choosing "hiking Mount Kilimanjaro" over something else.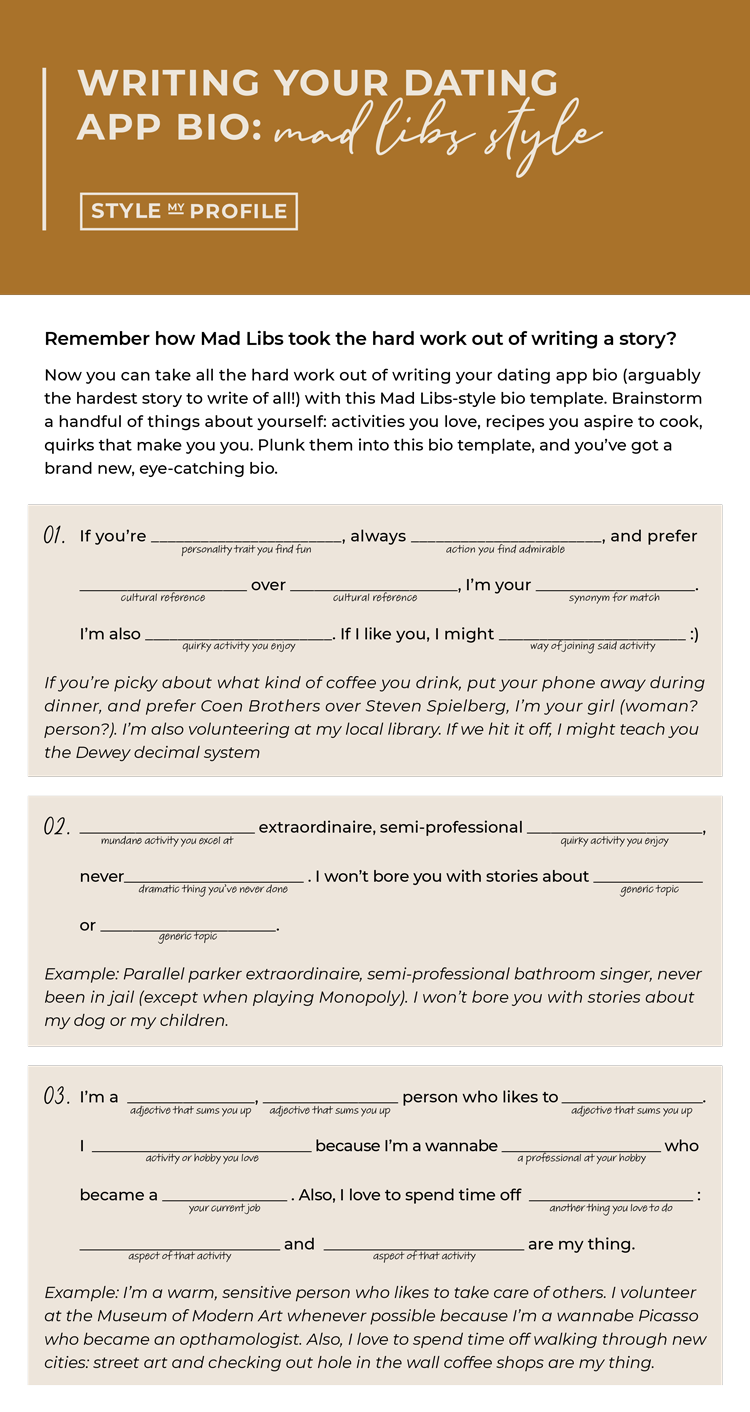 Jessica starts off with her example,  'If you're usually up for getting off the couch, always thoughtful/generous and prefer spending time with kids/family over being on your phone 24/7, I'm a great fit. I'm also a somewhat decent snowboarder. If I like you, I might even let you pick me up when I fall getting off the lift." This was adapted from a more generic description that Jessica had written saying that she wants someone who is funny, a little sarcastic, likes to get off the couch to do something, and is always thoughtful and kind. The MAD Libs version just seems more fun, and ideally the type of guy who would appreciate it is the kind of guy that Jessica wants.
T.H. also used a good example to show her true self, mentioning her likes and work ethic, "If you're always up to try something new, always hard work – harder play, and prefer family time always over going to temple, I'm your partner in crime. I'm also up for exploring a city without any plan or destination. If I like you, I might let you walk the city with me."
To make filling out the MAD Libs easier, Alyssa created a selection of prompts so that there's room to change to whatever you feel works best for you. In the second excerpt, there is more of an emphasis on the activities you like to do. T.H. takes a stab at it by responding with her hobbies and interests, "I do like filling out forms, I enjoy keeping track of my steps. What I will never do is sing solo for anybody without music playing in the background. I won't bore you with stories about politics or my divorce." Jessica follows this with her example, "Olympic level talker, semi-professional smoothie maker, and never drink coffee.' Then in parentheses, I wrote, '(Trust me, I have enough energy). I won't bore you with stories about my political views or how much I yell at my kids.'" 
Finally, there is one more prompt that is a little more difficult to figure out unless you see an example. Jessica chimes in with hers, "I'm an eternally optimistic and bubbly person who likes to ask a lot of questions. I read as much as I can because I'm a wannabe author who became a network news TV producer/entrepreneur. Also, I love to spend time off on travel adventures. Exploring new places and people watching is my thing." T.H.'s last section was this, "I like to do anything outside because I'm a wannabe explorer who became an entrepreneur. Also, I love to spend time off hiking. Taking in nature and talking to the trees are my thing."
Using the MAD Libs prompts will not only help you get to the point of what you want to highlight about yourself but it will also weed out people who may not like the things you do. For example, if you mention you aren't a fan of being a couch potato and someone loves their sofa, they already know you won't be compatible. Thanks to Alyssa's MAD Libs system, you'll be saving a lot of time. 
Alyssa gives a few specific pointers as to certain words you don't want to include when describing yourself, such as "kind, loyal, cute, and funny," because pretty much everyone sees themselves as those things. There are plenty more to give yourself a bit more individuality. Another tip on what not to do is to put negative things in your profile. Alyssa says a lot of people tend to do this by saying what they don't want in a relationship, but emphasizes that's really not what you should focus on, and it can give off a vibe that turns people off. For example, there are people who say things like "no baggage please" or "not looking for drama", but who doesn't have a little bit of baggage? Scratch the negative comments and unrealistic expectations and you'll be pleasantly surprised at how many more responses you'll see coming your way! 
DATING APP DYNAMICS
When talking about dating in today's day and age, politics has actually become a more common topic of discussion. Politics used to not matter as much, but with everything that has happened in the past year and a half, some people can't even sit at a dinner table with someone who has a different political view than them. On the bright side, some dating apps do have the option to show where you stand politically if you feel like sharing that info. This is the same for other questions like if you are married, if you smoke or do drugs or if you are looking for something casual versus a relationship. The dating app Bumble makes it easy, you can simply check off a box and you're good to go. But in general, there isn't a real need to voice your political opinions unless you are something who absolutely will only date someone whose views match your own.
With so many dating apps out there, it can be hard to figure out which one is best for you. Unfortunately, there isn't one answer because it depends on an assortment of things — where you're located, how old you are, or what kind of relationship you want. More specifically, geography can be a deciding factor. In metropolitan areas or on the coasts, Hinge does particularly well. Alyssa also emphasizes that Match is a popular option when some don't know what else to try.
When going through these apps, it's nice to come across profiles that deserve a closer look, but not always in a good way. Yes, a lot of it is subjective, but some of the common mistakes Alyssa warns against are the stereotypical picture with a fish that so many guys post (why?), or posing shirtless – though Jessica admits while she is not a fan of guys who post pictures with no shirt on, she sometimes appreciates it if he has a lot of tattoos, because she feels that's something she would want to know beforehand. Alyssa also says it's not a good idea to use filters in all of your photos. People actually want to see the real you! Not every picture has to be sexy and in today's society especially, it's hard not to want to edit your photos to make you look the best you possibly can. But just think about it, if you edit your photo too much or your profile is based on photos from seven years ago, you might not be the person that your date was expecting. And then you're literally setting yourself up…for disappointment. 
At the end of the day, it's worth it to spend the time and energy on creating a great dating profile that represents the real you and shows you off in the best light possible. Just keep in mind that you want to stay true to yourself because in the end, if you're filling up your profile with generic descriptions and pictures that don't accurately represent yourself, the only time that you're wasting is yours.