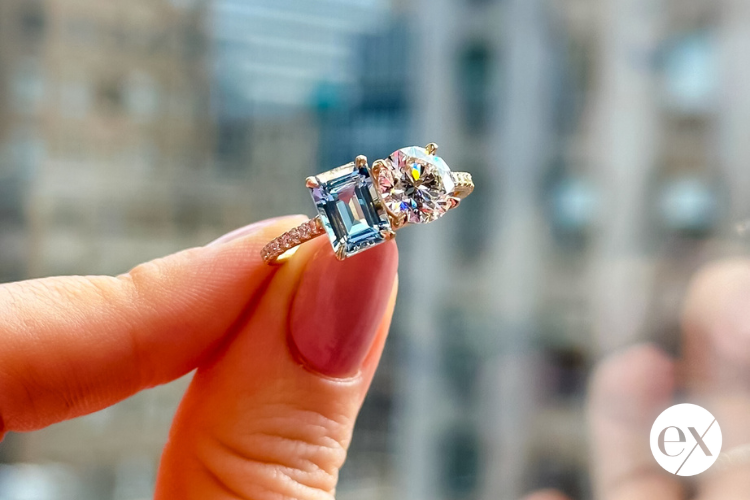 What do you do with your engagement ring after a divorce? Is the only option to hide it away or to sell it?
T.H. herself held onto her ring for about 12 years before eventually selling it. She had no idea what she could've done with that ring, and if you're in the same position, we're here to tell you there are some fabulous other options! So if you still love your stone or want to find a way to give it a new life, listen to Stephanie Gottlieb, founder, and CEO of Stephanie Gottlieb Fine Jewelry. Stephanie spoke to Jessica and T.H. on the Divorce etc… podcast all about different ways to repurpose engagement rings.
The Fine Jewelry Business
Stephanie has always loved jewelry, always finding ways to accessorize. Though she's an introvert in many ways, she says jewelry was one way where she feels truly confident showcasing her personality. 
"The intention behind it was that people could wear things that made them feel a certain way, made the outside world look at them a certain way," Stephanie says about her namesake business. 
The Many Possibilities You Have
Stephanie says about half of her clients wanting to repurpose their engagement rings after divorce do it simply because they love the stone, and the other half do it because the relationship ended amicably. 
"I think at the bottom of all of this is, where is the emotional attachment? Can you stomach wearing it? Will it still feel special in a new piece, or does it have too many strings attached to it?"
There are a lot of factors that determine how you can repurpose your ring, and the first one is really about your lifestyle because what you do with it depends on each person. If you're someone who likes lounging around or going to the gym every day, then maybe you want a smaller piece for everyday wear. But if you're someone who loves getting dressed up and is always out and about, a statement piece might be exactly what you want. But it can also be something you repurpose into something you only pull out for the rare event. 
One option if you're feeling uneasy about the piece is maybe choosing another way to repurpose it, rather than have a statement necklace piece. You can always opt for a bracelet, or if there are multiple stones you can use, maybe even a pair of earrings. Whatever creative vision you want to execute, Stephanie has a ton of ideas. 
The Most Common Choices When Repurposing
Surprisingly, most of Stephanie's clients will repurpose their former engagement rings into another new ring. She finds that a lot of the women she talks to look at a new ring as a symbol of a new independent chapter of their life, empowering the piece and turning it into their own. 
Plus you're not limited to just using one stone when trying to repurpose your jewelry. People also will bring in another piece with other stones and create a combo piece, finding a way to make their creation unique while repurposing two unworn pieces at once. Or if you have many little diamonds on your band that you want to incorporate, Stephanie can help you with that as well. There are no limits to what you can do with your stones. 
The Go-To Styles
There are a few go-to pieces that Stephanie recommends when repurposing a stone. One of her favorites is the tennis necklace, which is perfect for layering and wearing for everyday use. With a tennis necklace, you can add your stone to the center of the necklace and it'll elevate that piece to another level. 
A lot of people will opt for the stone to be turned into a pendant, where they can pair it with anything depending on their style or the occasion. And this one, T.H. points out, is an excellent transition before you decide to sell it if that's a route you're also contemplating. "Try it and see how it feels," T.H. suggests. "You can still sell it without compromising the value of the stone."
And repurposing jewelry isn't just limited to engagement rings that are no longer in use. It can be used with jewelry that's been passed down to you that's not your style, for an upgrade to celebrate years of marriage, or if you simply want to revive an older piece of fine jewelry to get more use out of it rather than letting it collect dust. 
The Process
If you're interested in giving life to your old ring, you might be wondering what this process will look like.
First, you'll get a preliminary appraisal of the piece, meaning the jeweler will want to make sure it's real and that you know the value. They'll check for chips or any form of damage to the stones before working with them. And when it comes to appraising, Stephanie suggests reappraising a stone about every decade or so, so you're aware of the current value of the as times change. 
It's very important to do this appraisal at the outset because sometimes there are situations where someone finds out that their ex – or even an unscrupulous jeweler – had switched out the stone without their knowledge. T.H. had this happen to her, and when she went to sell her stone, found out that it was not the same quality that it was many years earlier when she got married. (And note that an engagement ring is not a marital asset, it was a gift, and your ex is not entitled to ask for it back OR to tell you that it needs to be appraised during the divorce in order to find out the value for division of assets. It does not need to be appraised for this purpose.) So if you're getting an appraisal done, have it done by someone you trust and, if possible, have it done in front of you. 
After the appraisal is completed, Stephanie works backward with the client to find a unique style that matches their taste. No person is the same; similarly, no piece turns out the same. You'll leave with a unique creation that you'll love and wear, bringing new energy to a piece that formerly represented a relationship, but now, is yours to its core. 
Keep in mind there is no rush to decide what, if anything, you want to do with your engagement ring after getting divorced. It's perfectly natural to hold onto it for a while, and for many people, the process of selling it or doing anything else with it can be somewhat emotional. But the idea that there are so many different things that you can do with your stone can help you decide what feels right to you.