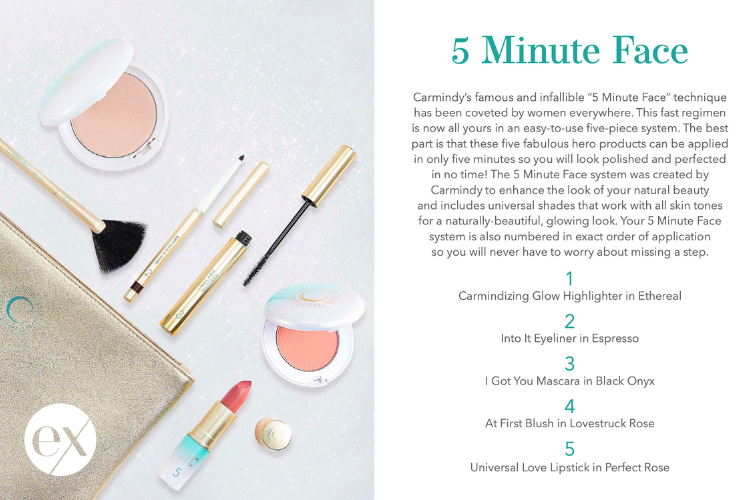 Doing your makeup in 5 minutes sounds like a superhuman skill, only attainable by those who already possess flawless skin. But, for makeup artist Carmindy, flawlessness is inherent to everyone. All you need is 5 minutes to unearth your inner beauty queen. 
Carmindy is a renowned makeup artist who graced TV's "What Not to Wear" with her radiant persona in the early 2000s. Since Carmindy started her career, she has been referred to as the "light-handed makeup artist." For her, makeup serves to enhance natural beauty. "I've always looked at women as flowers," Carmindy says. "There are daffodils and orchids and cactus flowers and tulips and daisies, and they're all completely unique." Carmindy believes that makeup should be a tool for celebrating your uniqueness and not a method of disguise. Her philosophy of makeup centers on revealing instead of concealing. With this approach, she saw a way to minimize the length of the average beauty routine by diluting the process down to the essentials. With her "5-Minute Face" method, Carmindy has developed a quick and effective makeup routine for ALL women. 
Carmindy's "5-Minute Face" is all about returning to simplicity by honing in on the ancient ritual of self-beautification. She researched several case studies that examined, cross-culturally, when a woman was at her most beautiful. She found that the one common thread that makes a woman at her most beautiful is when she's at her most fertile. Sadly, fertility is not forever, but thankfully makeup is. The researchers of the studies concluded what makes a woman appear more attractive during fertility comes down to four factors: 
Glowing Skin
Captivating Eyes 
Flushed Cheeks 
Engorged Lips 
With these four factors, Carmindy's Steps to her "5-Minute Face."
Here they are: 
1. Get Your Glow On: Highlighter 
After applying your skin tint or foundation, highlight your face! Carmindy emphasizes highlighting the tops of the cheekbones, underneath the brows, and the inner corners of the eyes. "Highlighter," Carmindy says, "is just light, and light is energy, and you're bouncing energy from your face." No matter what age, you can look radiant when you add a bit of glow to your skin.
2. All About Eyes: Eyeliner
Eyeliner will restore that lash line and make it look thicker. This will widen your eyes by adding some depth.
3. All About Eyes: Mascara
Adding a few coats of mascara will make your eyes appear bigger, giving you that cute, doe-eyed look.
4. Stay Cheeky: Blush 
Blushing is associated with youthfulness and being in love. Carmindy loves to recreate the innocent flirty vibe of blushing by applying blush to the apples of your cheeks. A lil rosy color goes a long way.
5. Luscious Lips: Lipstick
Lipstick is great because it can make as bold of a statement as you want it to – it all depends on the color. Like highlighter, lipstick illuminates and draws attention to a specific area. With lipstick, it's all about having fun and playing into whatever mood you're feeling. 
With this routine, Carmindy wanted to help women of all ages and skin tones restore themselves back to their most natural, radiant self. The "5-Minute Face" is simple, easy, and universal. All you need is 5 minutes and a beautiful face. In the words of Carmindy, "Just take what you've got and celebrate it."
Link to 5-Min Face video on YouTube