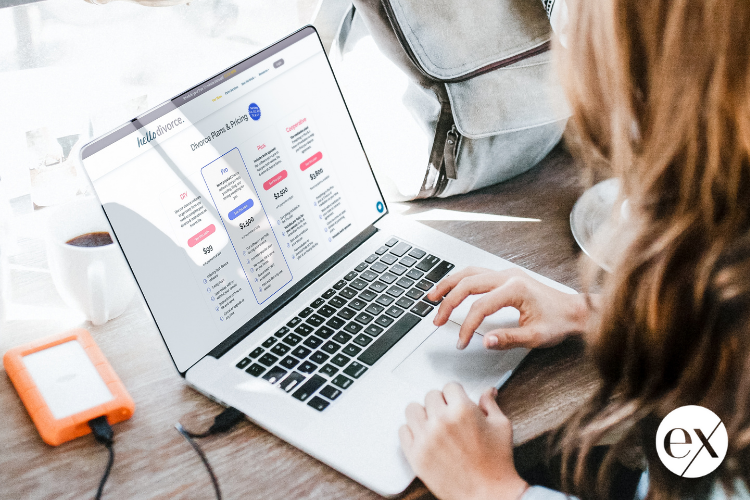 Divorce is a pricey ordeal and you really have to be careful about a lot of the sketchy "deals" advertised making it seem like you can get divorced for just $99. If you want to take care of the process yourselves and know you're going to be having a very straightforward divorce – no kids involved and not a complex financial situation – Hello Divorce may be just what you're looking for. This is finally a legitimate "do-it-yourself" divorce service being provided for you, and Erin Levine, the founder of Hello Divorce, joined Jess and T.H. on the Divorce etc… podcast to discuss her services and how you can get the most out of what she offers. 
What is DIY Divorce?
The concept of DIY divorce has actually been around for a long time. While all divorces are different, a typical divorce can cost an average of $15,000 to $25,000 per person. Because of this, about 80% of cases have at least one self-represented party, so online divorce became an option in the late '90s. 
Erin describes Hello Divorce as the solution for those who want to avoid the traditional sense of lawyering up in a divorce. "It was an opportunity for people who have very amicable divorces to complete their forms, and ultimately, hopefully, get divorced." 
The Birth of Hello Divorce
"I was always really critical of DIY divorce," Erin admits. As a divorce lawyer for 16 years and a certified divorce family law specialist, she knows the ins and outs of divorce and what it entails. But she also knew she wanted to recreate how divorce is handled to try to make it easier and more affordable for those who, maybe still have conflict and want to protect their interests, but don't want to lawyer up in the typical way. And so Hello Divorce was born. "The concept is that you only pay for what you need when you need it," Erin explains. "Because as you know, divorce doesn't happen overnight. It's a process."
But Watch Out…
Online divorce can be great and convenient, but you want to be careful and make sure you're working with a legitimate company that's actually looking out for your best interests. Hello Divorce explains their terms, then gives you the opportunity to have people step in and help you where you need it. There are so many technical details that are necessary, but not readily available on court websites, making it especially challenging to try and facilitate the process on your own. And courts have different regulations, like needing documents stapled, while others require paperclips and nitty-gritty rules that can set you back in your process if you aren't aware of those specifics. Hello Divorce can navigate all of those little complications for you, because the number one goal is to make sure no one feels stuck when they encounter all of these technicalities, and the Hello Divorce team helps you move forward and set yourself up for success.
How to Use Hello Divorce
So how do you find what you need with Hello Divorce?
First, you'll take a quiz to identify your needs, and/or you can schedule a 15-minute call. The call won't give you legal advice, because that's not legal, but it'll help them learn a little bit about you and your needs, your goals, your fears, and anything they may need to know to help you out and come up with a plan. Hello Divorce can help hire who you need, connect you to the right resources, and support you every step of the way. 
Bear in mind that if you're in a divorce situation where you and your soon-to-be-ex-spouse are not on great terms, this may not be the route you want to take. This service is excellent for those who are at least somewhat committed to trying to come to an agreement and a solid solution. 
Where You Can Access Hello Divorce
Hello Divorce is available in many states and is launching in more as time goes on. "We could have launched in every state, but the goal here was to launch with a content expert who can help with accessibility and help develop our questions, to work with a lawyer, and a lota lot of paralegals," Erin explains. In essence, a whole team can help with the different issues that come up in each state because there are so many differences in divorce culture throughout the country. 
Hello Divorce is currently servicing California, Utah, Texas, and Colorado, and they'll be in New York and Florida soon, as well as have a bilingual Spanish-English product launching shortly. "I hope to do DIY everywhere," Erin says. 
In the meantime, no matter where you are, you can still get your Divorce 101 guide from Hello Divorce, which is composed of worksheets about things that come up prior to divorce or as you're going through the process. And there's more to consider than just the divorce process itself. "We want to encourage people to do beyond what the law says," Erin emphasizes. "You're going to be co-parenting, you're going to be dealing with this person the rest of your life. And so the more you resolve now, the better."
So How Does Hello Divorce Work?
There are different memberships to choose from and they vary in price. Even if you choose one now, you can always upgrade or downgrade later. But most people choose what's called DIY Pro, which allows them to immediately get started on the software. 
The process is broken up into 3 steps. First, there's the questionnaire, which will just be your initial paperwork and reserving your rights. Next are the financial disclosures. "As you're disclosing whatever you know about your state and/or your spouse's, your forms are being populated too so you're not having to do it in a million different places," describes Erin. And third, depending on your level, you can either fill out the questionnaire that ultimately gives you your divorce agreement and decree, or have a mediator or lawyer handle that for you. 
Then it's time to come to an agreement. Hello Divorce has a lot of resources on what you need to agree to, the things you need to think about, and when it might be a good time to talk to a lawyer or a mediator. Typically, when your spouse sees that you don't have a lawyer and are earnestly trying to move forward in a simplified and amicable way, they tend to calm down, lowering the conflict. "It's just about finding the right fit," Erin simply explains. "It's really flexible and tailored."