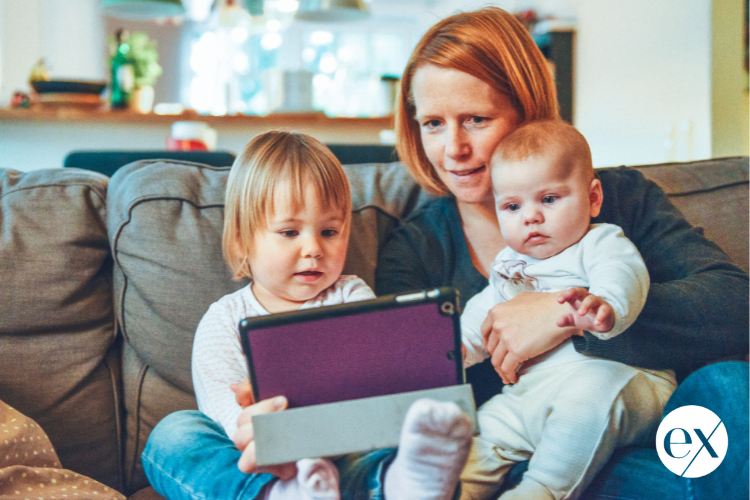 If you're looking for a support system to help your family navigate through divorce, co-parenting, custody, working with your ex, and managing questions your kids throw at you, then the interview Jess and T.H. did with Jen Schimbeno and Brandyn Roark Caires from Parent Team will give you a ton of helpful tips. Jen and Brandyn are the co-founders of Parent Team, which is all about helping you get that extra hand in how to handle things, in order to co-parent smoothly and effectively.
Am I A Bad Parent?
Parenting classes are required in a lot of states to give you that nudge in the right direction in how to handle being a co-parent. "Our legal system is somewhat catching up with the times and providing more support and trying to be proactive instead of reactive," Jen explains. Parenting classes are mainly there to give you that boost, to help in the divorce process when you've got kids. 
Does taking a parenting class mean you're a bad parent? Absolutely not. It's just another tool for you to add to your tool belt. When we go through a divorce, we're going through a whole restructuring of our family. It's a major transition and it requires support. So what kind of support can you get out there? For this, a lot of counties will have a variety of options for you, such as online courses, an in-person option, a quick "knock it out" type six-week program, and there are even some that'll just require one course for two hours. 
And when you're going through a divorce, there are a lot of emotions, on top of dealing with all the legalities. You're not at 100%. "One of the reasons why we created Parent Team and our online course for co-parents is that you can take that and get your certificate and give it to the family law courts, but then you can go back," Brandyn points out. You can go back six months, twelve months, or over a year later – a refresher to help you ground yourself after going through this huge life transition. You can use their parenting course to restructure your life when you've got a better head on your shoulders, because in the moment, it may not feel so easy. 
So What's Special About This Class?
You'll find that a lot of other parenting classes will focus on the statistics. Or have lessons on "how to prevent your child from being put in the middle." Yeah, sounds great in theory, but tell me how. So Jen and Brandyn wanted their course to be really intentional and not so much about throwing statistics at you. It's evidence-based of course, but it's more about implementing strategies and practicing them so you make sure you're doing all that you can to truly remove your child from the middle. 
Let's examine one of their modules as an example. In one of their first modules, they focused on the parent-child relationship. But there's not a whole lot out there for parent-to-parent relationships. How do we get along as co-parents if we have our own issues to work through? How do we co-parent if we don't even like each other?
So they created a Mad Libs-style tool to practice with your co-parent. You write a narrative and act it out. Then they walk you through how to have that family board meeting. "We're writing it for you," Brandyn explains. She talks about how so many people going through divorce experience what she coins "the divorce fog." You're going through the thick of it and just need that guidance through the fog. So that's what their Mad Libs-style lesson will do for you. You fill it in with what's true for you, and Jen and Brandyn will walk you through that. Then there's some evidence-based practice such as emotional coaching and other techniques that they have implemented into their class. That way, co-parents can work to create a plan with a framework so they're not left in the dark or clashing on how to co-parent their kids post-divorce. And this Mad Libs approach isn't just catered to one age range of the kid you've got together. They've got examples of how to approach a four-year-old, and ones for the sixteen-year-old. They've covered all the bases. 
What if My Co-Parent Doesn't Want To?
When taking a mandatory parenting class, there are bound to be some parents that come wholeheartedly to the process, as well as some who don't. Jen and Brandyn get that. If you're in that situation where your co-parent doesn't want to partake to the extent that you are, they've weaved different tools and strategies catered to someone coming into the course alone. But they've also added some strategies to their course that'll require at least some level of attention to the content. For example, Jen wrote a quiz for the course, and it's not so easy. You'll have had to have actually taken the course and not just checked off random answers to the questions, because that quiz generates your certificate of completion, which families can take to the family courts. You've got to put in the effort to do well to show that you've taken the time to work on how to co-parent successfully.
And the best part? The course is only $99, and you can go back anytime to relearn and refresh yourself on any module in the class. When you first sign up, it'll send you an email with your login that also includes a paragraph that you can copy and paste to your co-parent that encourages them to access the course, at no additional cost, but with a separate login. And what's amazing is that to date, they've had about 75% participation from the second parent that gets this information sent to them by their co-parent. The message here is that even if you're in a situation where you think your ex may not be open or willing to learn, don't assume they won't do it. Parent Team's numbers are showing most will.
So Who Can Take the Class?
So do you need to be required to take the course to take it? Nope!
And if you are interested in working with Brandyn one-on-one, she also sees individuals dealing with these parenting struggles from all over the place virtually. No matter what approach you choose, just know they're here to help and you'll have the resources you need from them.