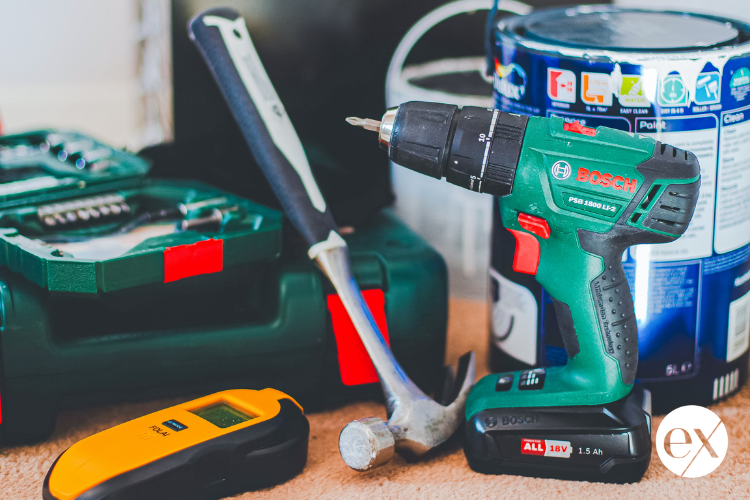 After watching a million shows on HGTV, freshly out of a relationship and becoming a new homeowner, it was time Timisha put these pieces together. She needed to fix something and Dad (or another man) wasn't just around the corner. With limited funds, she had to make it work with what she had, eventually turning in the creation of her business and YouTube channel, "Toolbox Divas"!
Surprisingly, with no knowledge of how to cut angles or putting up crown moulding, let alone change a door knob, she began learning skills so she could do it all herself. Once Timisha nailed crown moulding, she then created a beautiful backsplash in her kitchen and before she knew it, the rest of the projects were pretty easy.
Until the big one. Timisha found a house to buy that was kind of a shit-show, a complete fixer-upper. She knew this project was definitely going to be a lot more than a backsplash or putting in-crown mouldings. But she had some experience under her belt, and that – combined with her confidence that she would be able to learn what she needed to – Timisha went ahead with this major project in the Washington D.C. area. 
Not knowing whether or not the house might fall down or if the door knob would fall off, Timisha's knowledge of carpentry and her experience working in a tool library in Baltimore helped her recognize that she loves constructing things and creating furniture. Timisha rediscovered her passion and the recognition that she was actually kind of lucky, because not many people have the balls or the capability to put their all into their hobbies.
"If you just go into your every day, and explore the things that you like to do in your day, that makes you happy, those are probably the things you should explore. That's exactly what you did, and that's exactly what our [exEXPERTS] audience needs to hear. You can do it!" 
For a while, Timisha did not understand what her purpose was. She found herself sitting in church and wondering what it could possibly be, when the pastor began preaching this lesson, as if he was speaking directly to her. And this lesson lingered in her mind as she worked on figuring out what made her happy.
She began working on projects for her friends, but she wasn't charging them and she was getting far too many payments in food. She was realizing that she'd had enough with the number on her scale growing instead of her pockets. So Timisha initially started as a DIY coach and set up a website to encourage others if they needed coaching. But she quickly came to find out that no one wanted a coach, they just wanted someone to do it for them.
She was blogging and showing off some of the projects she was doing, and as her following on social media grew, more followers were reaching out to her for help. She began getting sponsors, and was able to work on some projects that really made a difference for people. "Someone will submit their project to me, and if I like their project, then I'll go and help them. And with the help of a sponsor, we might makeover a room or we might build a piece of furniture together." 
T.H. gets the concept of needing/wanting to learn how to do simple home repairs on her own. Fortunately for her, her boyfriend is a contractor, so he is able to guide her – recently they tackled a toilet seat. At first she thought, like how hard could it be? Well, much harder than she thought, but the first step is always the roughest. And upon successful replacement she was thrilled to realize that rather than have someone do the job for you, it is much more empowering when you're able to do it yourself.
DON'T WANT TO BUY A TOOL BOX? HERE ARE THE TOP 3 TOOLS YOU NEED 
Your basic Phillips and flathead screwdriver – Timisha says,

"You want to have them in a couple of different sizes, but you also want to have a drill, a good drill, not a not a wimpy girly drill."

Level – if you're planning to hang curtains or pictures/artwork on your wall, you'll want to pick up a small level or even a big one, if that's your preference.

Hammer – if you're a big fan of IKEA, this is your best bet!
WHAT YOU MUST KNOW WHEN YOU FIRST MOVE INTO A NEW HOME 
For those who want to learn how to be more "constructurally" independent, Timisha shares her top three things you must know if you're going to be living in your own home.
Ranking at number one is knowing where the water shut off valve is, because it's responsible for the sink, kitchen, and bathrooms. Depending on how old your home is, it might be a little more challenging to find. In order to find it, your best bet is looking in your utility room or where your hot water heater is. For your kitchen, it's most likely underneath your sink. And if you don't have one, call a plumber. 
Coming at a close second is making sure that you have one or two fire extinguishers, one in the kitchen and one in the garage. Reading the instructions is helpful but being that they are made more like aerosol cans, they're much easier to use Timisha says, "Now that I have them in aerosol cans, I keep them around everywhere."
Lastly, it's very important to know exactly what's going on in your electrical panel. Labels are crucial in figuring out whether the right switch is for the fuse detector or if this is actually the basement lighting. It would also be nice to have one of those gadgets that lets you know if the electrical outlet is too hot or not.
Timisha admits that she spent so much time trying to figure out what area the fuse works for, but if it had been labeled, it would have been ten times easier. Why spend so much time trying to figure out, " Is it the power on in my bedroom? Is my refrigerator working? Is my stove on a separate fuse?" 
There are always lots of home projects to get done, and a big reason people don't get around to them is because they don't know how to do it themselves. Don't be one of them! Instead of feeling powerless to fix things or needing to ask all these questions, check out "Toolbox Divas" on Youtube to get more tips and tricks – you really can be your own handyman!