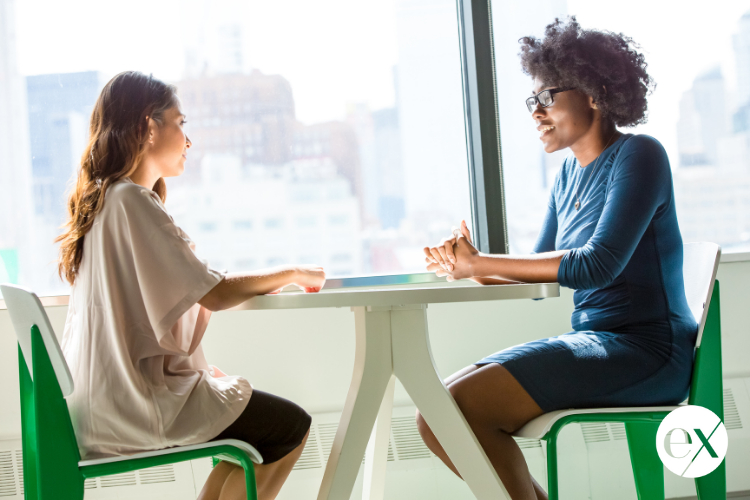 Let's Start With T.H. and Her Experience with an Employability Expert:
T.H. was about two years into her divorce when an employability expert crossed her path. First, she had no clue that such a person existed. "Who and what is that?," she thought. She was actually insulted that she needed an employability expert. T.H. had lost her job, because the company she worked for shut down unexpectedly. It wasn't like she chose to leave her job. She has her MBA, she had corporate experience, and was confident that she would continue to work and grow her career. When she found out that T.H.'s ex was bringing in an employability expert, Jessica thought, 'so what happens if they tell her she can make $90,000 -$100,000 a year. What will she get out of having someone evaluate her employability and earning potential?'
T.H. couldn't understand why she had to go and meet an employability expert. She felt like she was in school again, being tested on information she already knew. She thought it was great to have someone tell her how much she could potentially make, but she didn't see why it was important. It all sounded great in theory, but not in practice. She'll know how much she can make, but where is she getting that job? Where is the guarantee? How will her divorce agreement for X amount of money change based on a job that she doesn't even have? 
In hindsight, T.H. views it as a very humbling experience. Having an employability expert helps to give you an outsider view on your professional situation. At first, it may seem like you're being put on the spot and being analyzed. Any situation involving how much money you make is an inherently stressful situation. But, in reality, an employability expert gives you a new outlook. It's a fresh set of eyes on an individual experience that most people don't realize needs re-evaluation. 
An employability expert is really an unsuspected benefit to one's career. 
So Why an Employability Expert?
Who is this and why do I need her or him as part of my divorce? Finding agreement in a divorce's financial settlement usually includes deciding each person's responsibility for financial support: self-support, spousal support, and child support.  This is generally tied to the person's ability to be employed, at what level and how much income he or she can earn that fits their qualifications, skills, and experience. As you can imagine, both sides bring beliefs and assumptions about their own and each other's ability to work and earn income. Spouses tend to emphasize strengths and minimize potential limitations to support those assumptions, especially if one or both spouses:
Appear to be under-employed and under-earning

Appear to be unable to work, or return to occupations/professions they had before (for all sorts of different reasons)

Left a career or active employment and prefer not to return to that work

Have lost a job due to performance, layoffs, changes in their industry or employment sector

Have a long absence from active employment 

Are still looking for the right job ("in transition") or appear stuck in their job search

Express a need to continue or assume other responsibilities (e.g. family, another business) that limit their ability to work

Express concern about, or appear to have, medical issues that may limit ability to work or employment options 
This issue is colored by the other dynamics and emotions in the divorce, making it difficult to come to an agreement. Then your attorney, or even the judge, may recommend you use an employability or vocational (forensic) expert. This expert has the training and experience to use a clear, objective process to assess a person's employment and earning capability, the diligence of a job search, and a reasonable time to find such employment. 
The Best Time to Involve an Employability Expert is Early in the Case.
An early consult or preliminary assessment can test assumptions, provide an early reality check and bring a different perspective. This early consultation alone can help move the case forward, saving both sides delays and expense. Or it can show that a full evaluation is likely to strengthen a position. If it does go to trial, you will likely need a full report, prepared, and submitted well in advance of the trial date (the law differs in each state about this). Consulting an expert late in the case is a lost opportunity to settle this financial issue. If it is too close to trial, the expert's opinion may not be admitted and the expert will not have enough opportunity to properly prepare a report. 
How do Employability/Vocational Experts Determine Employability and Earning Capacity?
First, these forensic experts are expected to follow a standard process or methodology established by their profession and their peers which has been developed through research and experience for many decades. It starts with gathering information, reviewing documents and asking the retaining attorney to request an assessment interview of the evaluated person. The evaluation involves numerous steps, including, but not limited to:
Assess skills, knowledge, and achievements and how these can be applied to former or different types of work (occupations)

Determine how these vocational (employability) assets can be used or transferred to different employment options to best achieve the person's real-world earning capacity

Identify potential obstacles or concerns that may limit the person's ability to obtain and maintain that employment and reach the earning capacity 

Consider actions that can reduce the impact of these potential limitations 

Determine how long it would take the person to be hired into such employment and achieve those earnings

Consider job search efforts: length of time, amount of time, effort and consistency in a variety of job search activities when seeking work
What Can I Expect if I am Evaluated by this Expert?
Whether or not the interview is requested for you or your spouse, the expert will ask the retaining attorney to request an assessment interview, often via video or in person. If neither option is possible, the interview may take place by phone, but some form of face-to-face meeting is best and an advantage for the person being evaluated. In-person interviews are usually required for certain kinds of testing. Some experts may use career inventory surveys/tests or academic readiness tests, especially if the person might take coursework to refresh skills/knowledge, obtain new training or further education. These are at the evaluator's discretion.
You will be asked to provide certain documents prior to the interview, such as:
Your social security earning statement or W2s or other earning history documents

Resumes that you've used

Copies of certifications or licenses (current, expired or in retirement status) or other training you've completed

A completed background questionnaire 

A copy of your LinkedIn profile or other media used in your work or seeking employment

Description of unpaid work experience (volunteer work and leadership roles)
If you believe you have medical conditions that limit your ability to work, you will be asked to provide such records and recent statements from your medical providers describing how those conditions limit your current "Functional Work Capacity" (ability to perform job tasks). 
If you are seeking work, you will be asked to provide documents about your job search. This should include a job search plan, a diary/calendar, job search tracking sheets detailing your different types of activities/contacts and results, including those with a job search or career/executive advisor.
All documents should be provided well before your meeting. 
This helps both you and the evaluator prepare for and best use your time together. Reviewing your documents with you helps the evaluator understand how you've used your education, training, and experience to develop skills, knowledge, and achievements that you can bring to the job market as well as address any potential concerns.  It is not adversarial and may even feel like an informal job interview, but not like a deposition. Many times, the evaluated person feels that the process is actually helpful.
Using the information from the documents and the interview, the expert creates an employability profile. This is a first step to identify employment options and fit and can be referred to as a Transferable Skills Analysis. Evaluating employability also considers: 
Absence from the workforce, or a specific industry (the impact varies depending on the type of job, the industry, length of the absence, etc.)

How current your skills are for different types of employment

Are licenses/certifications still valid – how can they, or should they be reactivated

Age – again its impact differs depending on the remaining work-life expectancy, type of employment, the employment sector/industry among others 

Local labor market demand and employment outlook including economic conditions (remote or virtual employment can expand the potential labor market)

Changes in an industry/employment sector (e.g. impact of accelerating technology changes, economic fluctuations, etc.)

Job search skills, the quality and quantity of activity and results
A person may prefer certain types of occupations, work schedules or a different career, as well as wish to avoid others. The evaluator must consider not only what work the person prefers, but the work he or she is qualified for, can be hired to perform and income the person can earn in that work. In other words, it's not only what a person wants to do, but what he/she can do to reach the earning capacity. The expert does not make referrals to an employer, make a job placement, or direct the evaluated person to work. If requested, some experts may be able to make a referral to a career/job search advisor or other resources for a person to follow-up with on their own.
The evaluated person may want the expert evaluator to know of other concerns about returning to work such as balancing family, child care, business or other responsibilities, a sudden relocation, lack of funds to update skills, certifications or to work with a career, executive or job search advisor. This may be noted in the expert's report. It is for both sides, however, to consider how these concerns impact the person's ability to be employed in work that achieves the earning capacity. If these concerns are presented at trial, the judge will determine the weight of these concerns in her/his decision.
Lastly, no matter which side retains the expert, for the expert's opinion to be credible and useful, it must be a well-supported, objective assessment. When consulted early in a divorce, it can be an important settlement tool.