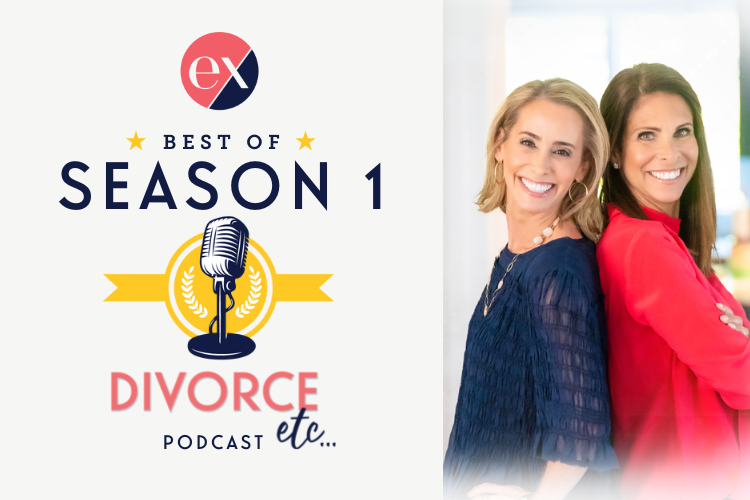 We must say, we've put out a lot of really great episodes in both Seasons 1 and 2 of our Divorce etc… podcast. Season 3 launches in January 2023, and in case you've been wondering what some of our best past episodes are, or if you haven't heard all of our episodes and want to learn about what our listeners found the most helpful and useful, we've compiled a list of our top 5 podcasts, the most listened to from Season 1. Our list covers everything from self-care and empowerment to the male perspective to money to family – each aspect of what we focus on here at exEXPERTS. Here's our countdown, from our 5th highest, listened-to episode to the 1st.
No. 5 – Sarah Corcoran, "Custody and Parenting Rights You Need to Know"
In this episode, we spoke with Sarah Corcoran, a lawyer in New Jersey who gave us all the inside information on custody and parenting rights. She keeps it uber-simple and what we love about her and her style is that it feels like she's is there for you like a friend would be. 
One thing Sarah said really stood out to T.H.: "Agreements can't provide for everything." If you want certain conditions in place for custody, yes, definitely put that in your agreement. But remember, agreements can't provide for everything. So ultimately, you really want to try to handle what's going on with your kids and communicate in the least harmful way as far as your kids are concerned, especially since you never know what's going to come up and can't prepare for it in advance. She's got the perfect practical advice, not just stuff that's easier said than done, but things you can actually take action on. 
If you have kids and you're getting divorced, or are divorced, this is the episode for you because she's got some great solid information and makes you feel at ease in a situation that can be overwhelming. 
No. 4 – Tracy Byrnes, "How to Create a Budget and Pay for Your Divorce"
Tracy Byrnes joined this podcast as a real-life expert herself, with information not just from her work as a Certified Divorce Financial Analyst (CDFA), but from her own divorce experience, and she is an all-around rock star. 
Most of us probably go into divorce thinking it means you'll be left living on 50% of whatever you lived on before with your spouse, but Tracy breaks this myth down. Take off 30% for legal fees, and then you have two homes that double every expense, like cable bills, electric bills, and everything under that category. And one thing that she reminded us of that blew our minds was to not forget about gifts – housewarming gifts, wedding gifts, birthday gifts; something that we don't assume will add on a lot of expenses but catch us by surprise when budgeting. And she's got some advice and tips on things you should get started on, like monitoring your last three years of tax returns especially as these are the most important, and she even went into exactly what lines to look for.
Tracy's blunt discussion of numbers is refreshing and on top of that, she makes the entire process seem simple enough that anyone can handle it, even you. And she leaves you with key takeaways that really will help you get your finances in order and know what you're getting ready for. Bonus, we have a budget worksheet that you can download on the www.exexperts.com website that Tracy says is super helpful when you're getting started.
No. 3 – James Bastian and John Nachlinger, "What Men Really Think About Divorce and Getting Through It"
We had two guys we love – James Bastian, a men's divorce recovery coach, and John Nachlinger, a family law attorney, mediator, and male divorce coach – join us for this podcast interview. They discussed the male point of view when it comes to divorce and really opened up to us about their perspective. 
There were a lot of eye-openers in this episode: about the stigma they face, the assumption that if they're getting divorced it's because they cheated, how men think, and the ways they are and aren't there for each other during a divorce. In James' and John's experience, they found that their experiences were glossed over, while inside, they were falling apart and trying to keep it together. And this information is really good to know to understand what men are going through and to be aware of how you treat them through this process.
Everybody should listen to this episode – men, women, however you identify, because this episode digs deep and the two of them are really revealing about the suffering they've endured, the difficulty of moving on, and the expectations and disappointment they've dealt with. We all feel this, no matter what role we play in our marriage and its end 
No. 2 – Julie Wein, "Rebound Relationship or Real Thing – How Do You Know?"
Our second highest-rated episode of Divorce etc… was this interview with Julie Wein, where she talked about rebound relationships. This episode was really about how you feel. If you really feel happy and settled with the relationship, or if there's some kind of underlying anxiety or discomfort that you might be trying to ignore. If that's something that repeatedly comes up, then you have to pay attention to it and trust your gut. This was an episode that Jessica resonated with, as someone who's been there before. 
A rebound doesn't mean it happens the next day. They can be triggered and happen a while later, even years later. It could also be a repetition of bad patterns, where you might think someone new is checking all the right boxes, while these are all really the wrong boxes, and result in you just repeating the same mistakes over and over again. Julie discusses how to avoid getting into something that's just another rebound, and if your new relationship is real or not.
BONUS – Tara Gilvar, "Empowering Women – Creating Your Girl Gang"
We did have a *bonus episode* in this season's list of our best podcast episodes. We spoke to Tara who founded the organization B.I.G., which stands for Believe, Inspire, Grow and is all about empowerment and growth after divorce, both very important concepts to explore before getting into another relationship. Pretty much anyone going through divorce finds themselves in a situation where they are faced with coming to terms with who their true friends are – who is there to support you, who is there to help you process and get through it, who is there to listen? At the same time, we realize who in our friends' group is not truly supportive or who really just wants to gossip about what went wrong in your marriage. Tara talks about the necessity of finding the right group of people to support you every step of the way, which Jess and T.H. know firsthand is absolutely crucial when getting divorced.
No. 1 – Gabriella Formosa, "What Your Divorce Lawyer Doesn't Want You to Know"
Our highest-rated episode of the Divorce etc… in season 1 was with family lawyer and mediator, Gabriella Formosa. When you're getting divorced and choosing your lawyer, you often don't have a lot of information. It's a scary process, and you feel the need to just blindly follow the guidance provided by your lawyer. Gabriella gives some amazing tips on what you have the right and the power to do, regardless of who your lawyer is.
Remember, you are the one hiring. It's your money, your life. Own it. You always have the right to double-check things that your lawyer tells you with another lawyer, something that not a lot of people think they have the option to do. You don't want to have any regrets about what you should have done differently during the divorce process, and reaching out to double-check anything that you might be iffy about is the best way to eliminate that doubt.
A respectable lawyer should be honest if they think your current lawyer is right. If you get a second opinion who says to you, "That's what I would do", that'll give you peace of mind during this overwhelming process. Jessica and T.H. always say that the relationship you have with your divorce lawyer is one of the most intimate relationships you will have in your life – it has to be someone that you feel so comfortable with that you're willing to open up about all the secrets and personal things in your marriage. Plus, you also have ot feel good knowing that if your lawyer goes into a room to negotiate without you, that they have your best interests at heart and are a true partner to you in your process.
Last Notes
To date, we've done over 140 episodes of Divorce etc… and they're all out there for you. We cover a wide range of topics, so no matter where you are in the process, there's something for you. We know it's hard to find honest and reliable information about your divorce, so we've done the work for you with these conversations from experts all over. Be sure to subscribe to our exEXPERTS in Your Inbox newsletter, join our monthly virtual open house events, and even sign up for private sessions with us to begin your journey moving forward in a positive way beyond divorce.